Let's be very clear upfront – the Bushfire Volunteers association supports vaccination and encourages everyone who can get vaccinated to do so.
However, State Government messaging around its mandatory COVID-19 vaccine regime has cause more than a little concern and confusion over the last few days.
A few weeks ago, the State published the infographic below that clearly lists Fire and Emergency Services (excluding volunteers) in the first box – those who had to have their first dose by 1 December 2021 and be fully vaccinated by 31 December 2021.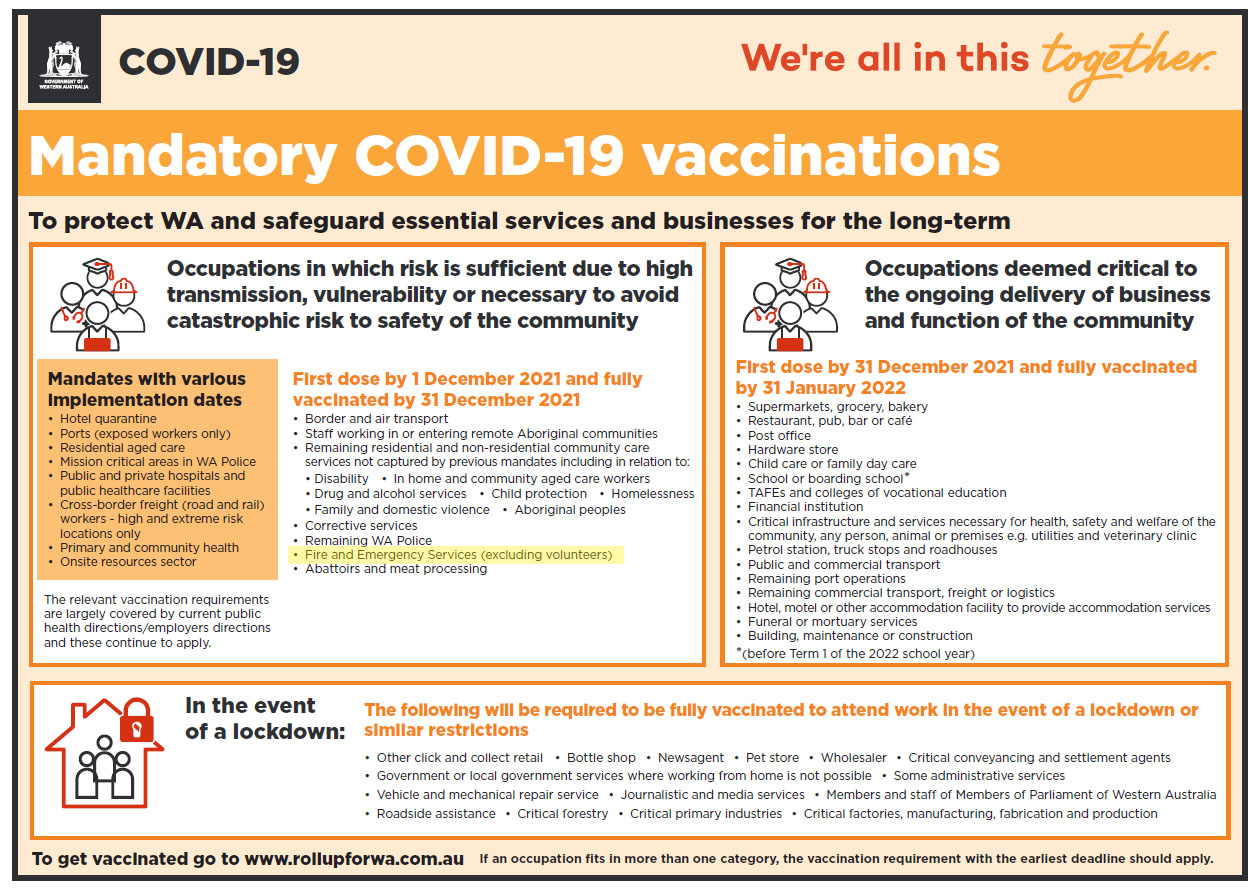 Then on Friday, FES Commissioner Darren Klemm published a General Circular (No: 195/2021) titled "Chief Health Officer issues mandatory vaccination directions for fire and emergency services".
The document stated:
Volunteers have now been included in Group 2 of the Chief Health Officer's mandate, as they are considered a critical service necessary for the health, safety or welfare of the community.

The directions mean all volunteers need to have received their first vaccination by 31 December and be fully vaccinated by 31 January 2022.
Unfortunately, that message has created two new problems.
The first is the confusion caused by the apparent policy reversal. The infographic above from a few weeks back (and the Premier on radio at the time) explicitly exempts Emergency Service Volunteers from the Government's vaccination mandate regime. The announcement on Friday is 180 degrees in the other direction. In the absence of detailed rationale for the backflip, we assume it is based on the growing sense of political urgency to get WA's overall vaccination numbers up to 80% – and it is just another example of our members being an "unintended consequence". Although confusion is the last thing anyone needs in our emergency services, this disappointing use of ES volunteers will be clarified by the media within a couple of days.
The much more concerning problem is the choice of language in the Circular. Commissioner Klemm asserts that this new "direction" is binary with only two settings – be vaccinated or you can't volunteer. However, that is not correct and frankly, the association is deeply troubled that the primary method DFES uses for communicating policy to volunteers would carry such incomplete and misleading advice, especially when it has potentially disastrous consequences for our community.
We understand that as a government employee, the FES Commissioner has to hold the government line and there's no doubt his memo to volunteers ticked the box of sending the important "Roll up for WA" message. But there is another, much more critical job – and that is to ensure WA has enough available resources to protect our community from catastrophic bushfires.
Yet on the first warm weekend approaching the high-risk south-west fire season, the head of the Department of Fire and Emergency Services signed a document that has caused more unnecessary anxiety for our essential service volunteers at best, and at worst, a potentially life-threatening withdrawal of labour. Here's just one message we received from a regional member late last night:
DFES just announced mandatory Vax [sic] for volunteers. I quit.
The most frustrating part of this is that despite years of work and millions of dollars of ESL being spent on being more in tune with our volunteers, DFES still defaults to a defensive response whenever the association tries to help with pre-emptive insight.
A case in point is our long-standing position that volunteers can't (and shouldn't) be treated as "employees" in every regard. If a paid staff member doesn't like an instruction, they either do it because it will pay the rent or quit and both the employer and employee are relieved of their obligations. The very definition of volunteer is that one of the parties are their by choice. Time and time again, our members tell us that they choose to give up their time and skills to protect our communities from the ever-present threat of lethal bushfire and only ask for respectful acknowledgement in return. And sadly, sometimes that respect is a long way from self-evident.
Despite the FES Commissioner's official policy document stating that every volunteer needs to be vaccinated with a footnote reminding "all staff and volunteers to treat each other with respect", it leaves those reading it in the dark about Clause 7 of the 11 page Chief Health Officer's directions that says you don't actually need to be vaccinated to attend an emergency:
Nothing in these directions prevents a person who is not vaccinated against COVID-19 from entering any part of a fire and emergency services site for the purposes of:…

(c) responding to an emergency where the emergency response is required to be provided immediately and a fully vaccinated or partially vaccinated person is not available to provide the response
For clarity, the CHO's document also specifically defines "Fire and Emergency Worker" as DFES staff and:
A person who is a member of or a cadet in a Bush Fire Brigade.
The document contains a lot of other relevant information and as such, encourage anyone with the time to read it and contact us if you would like to discuss its impact on your volunteering and/or Brigade colleagues.
Quick summary
The association:
supports vaccination and encourages everyone who can get vaccinated to do so.
is concerned that the reversal of the government's policy could cause confusion but believes that will be resolved relatively quickly, and
is deeply concerned that the FES Commissioner has published a formal policy Circular that gives incomplete advice and that has caused more unnecessary anxiety for volunteers and a greater risk of less volunteers being willing and able to protect our community this summer.