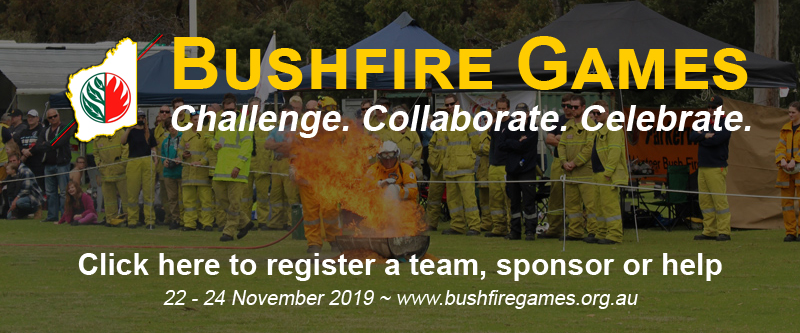 Two bits of excellent news about our first ever Bushfire Games / Mining Emergency Response Competition even on Langley Park:
We've been able to secure sponsored twin-share accommodation for team members competing at the Bushfire Games (check-in Friday 22 November and check-out Sunday 24 November)
We have a few last-minute places available for new teams to nominate due to a couple of withdrawals
So if you and five colleagues are free from the afternoon of Friday 22 November to the Sunday morning awards ceremony and would like to be part of this event, go to the link below and register to compete NOW.
http://www.bushfiregames.org.au/team-nomination/
PS. If you don't have the numbers to make up a whole team from your Brigade, please send an email to [email protected] and we will do our best to connect those who might like to form a multi-brigade team to fill one of the last minute places.
A quick overview of the Bushfire Games/MERC weekend (more details will be sent to registered teams):
Friday 22 November morning
Mining Emergency Response Competition (MERC) officially begins – Langley Park
Bushfire Games final checks – Langley Park
Free public exhibition and family activities (including cadets corner and food trucks) – Langley Park
Friday 22 November afternoon
Official opening sundowner featuring Cadet's hose run demonstration – Langley Park
Bushfire Games Cadets demonstration events – Langley Park
Free public exhibition and family activities (including cadets corner and food trucks) – Langley Park
Saturday 23 November
Full competition day – Bushfire Games (Seniors and Cadets) and MERC events – Langley Park
Free public exhibition and family activities (including cadets corner and food trucks) – Langley Park
Sunday 24 November morning
Bushfire Games Awards Breakfast – Langley Park
Bushfire Games official closing – Langley Park
Free public exhibition and family activities (including cadets corner and food trucks) – Langley Park
Sunday 24 November afternoon
Mining Emergency Response Competition (MERC) events wrap up – Langley Park
Free public exhibition and family activities (including cadets corner and food trucks) – Langley Park
Bushfire Games/MERC packdown begins